Welcome to the land of Fu, where you can strategize your content with proven frameworks.
If you're already in the digital marketing scene, you probably know what ToFu, MoFu, and BoFu acronyms are. Definitely far away from being the Chinese dish Mapo Tofu.
But when it comes to actual use cases in the sales process, sometimes you find yourself wondering:
"Ok, I conceptually got it. Now, how can I put them into action?"
That changes today because you've come to the right place. We'll cover all the basics of this powerful trio and how they work together harmoniously.
So buckle up and get ready for a journey that'll turn your leads into paying customers.
Here's the ToFu MoFu BoFu A-Z guide for sales and marketing professionals.
What is ToFu, MoFu, and BoFu?
ToFu, MoFu, and BoFu are sales and marketing terms that describe the stages of a potential customer's engagement with a business—in the form of a funnel. ToFu stands for Top-of-Funnel, MoFu for Middle-of-Funnel, and BoFu for Bottom-of-Funnel.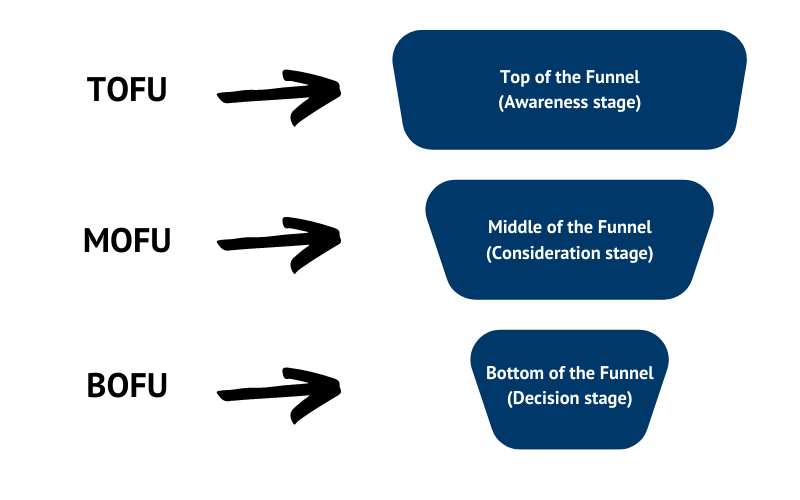 Let's take a closer look at each.
ToFu – Top of the Funnel (Awareness stage)
ToFu is the initial stage of the customer journey when people with little to no knowledge of your product or service start learning more about your offer.
At the top-of-funnel, the main goals are to raise awareness, build brand trust, and get as many leads as possible, which you can nurture more easily later on.
This is often done through:
Ebooks
Blog posts
White papers
Social media
Infographics
It sets the stage for later stages in the sales funnel through informational yet insightful content.
MoFu – Middle of the Funnel (Consideration stage)
MoFu is the halfway point when a lead's interest has been piqued, one step closer to conversion. This is also known as the consideration or evaluation phase. Those in the middle-of-funnel are aware of their problem and possible solutions to solve it.
Here you tackle fewer random people and a more targeted audience.
Since they're still exploring options, it's an ideal scenario to provide more relevant detailed information while naturally introducing your offering.
You want to convert qualified leads into sales opportunities by building trust and doing lead nurturing so that you're top of mind when sale time comes around.
So what does this MoFu contain?
Blog posts
Webinars
Templates
Email drips
Case studies
Whitepapers
Comparisons
Guides/How-to-content
BoFu – Bottom of the Funnel (Decision stage)
BoFu is the final critical stage where the conversion magic happens. At this point in the buying process, your potential customer is well aware of your existence and has researched and analyzed options.
Now is the time to reinforce – with a consultative approach – that choosing you is the way to go to get results and overcome any pain points. Focus on creating content demonstrating how the product/service works, showcasing features, and highlighting use cases or benefits.
Most BoFu resources include:
Free trials
Consultations
Case studies
Product demos
Product tutorials
Customer features
Comparison charts
Video walk-throughs
How to create a ToFu, MoFu, BoFu marketing funnel
Crafting a sales and marketing funnel isn't quite as intense as rocket science. With proper strategic planning, you'll be on your way to building relationships with your leads and customers while providing measurable results.
These are the actionable steps to create a ToFu, MoFu, BoFu funnel:
Set the buyer persona or audience you want to target
List your customers' product/service use cases and benefits
Brainstorm potential content pieces on a spreadsheet
Conduct SEO keyword research for all the web content
Organize the content ideas to fulfill each sales funnel section
Once you have these five sorted out, the rest is execution.
Here's the detail of the step-by-step process.
Step 1 – Set the buyer persona or audience you want to target
Without understanding who you're talking to, there's no way to ensure you're speaking their language and addressing their needs. Take some time to determine who you want to reach, their interests, how they communicate online, and what channels they use.
Doing this will ensure that you've got a plan in place and help avoid any unnecessary work or wasted resources.
The free tools HubSpot Make My Persona and Semrush Persona are two excellent options for drawing your ideal customer profile in minutes.
With Make My Persona, you'll have to fill in questions to identify the core elements of the ideal customer. After answering basic demographic questions like age, education level, industry, and consumption habits, the tool will generate a portrait of what this person looks like.
On the other side, what's cool about Semrush Persona is that alternatively offers you preset templates based on specific business models, including B2B and SaaS.
Step 2 – List your customers' product/service use cases and benefits
It's time to start researching and listing your product or service's use cases and benefits.
It might sound a bit tedious, but having them on hand is helpful for upcoming research and brainstorming sessions. This will be your go-to guide when it comes to getting your content marketing and sales funnel up and running.
Step 3 – Brainstorm potential content pieces on a spreadsheet
The good old-fashioned spreadsheet.
Write down any idea that comes to mind. Think outside of the box before committing to any plan. As you brainstorm, remember how each piece of content moves the customer further down the sales funnel and closer to purchasing from you.
Answer The Public is a great resource for finding ideas.
The tool gathers data from sources like Google, Bing, and Yahoo to share insights into how people interact with search engines and what questions they ask about certain topics on the internet.
Step 4 – Conduct SEO keyword research for all the web content
Research, research, and more research.
Coming up with the right keywords and analyzing their search intent is essential to get your content seen, especially on the top-of-funnel and middle-of-funnel stages. Those keyword phrases are gold mines.
Try using Ahrefs or Semrush to spot terms based on your previously vetted topics.
At TRAFFV, we offer SEO services that cater directly to the needs of Singaporean brands. This service includes a marketing strategy to identify and prioritize keywords that are relevant to your products, services, and target audience in Singapore.
You'll get ongoing support even after the initial keyword research is done – with regular updates about market changes, competition analysis, and updates on your website's ranking progress so you can stay ahead of the curve.
Step 5 – Reorganize the content ideas to fulfill each funnel section
This step requires strategy and thoughtfulness – it's not enough to drop them randomly into the funnel. You must be methodical in allocating content to the appropriate funnel level.
Once you start piecing together the puzzle by deciding which buyer's journey type fits each piece of content – from top-of-funnel materials all the way down to bottom-of-funnel resources – you'll be well on your way to creating a powerful sales funnel system.
Let's use ClickUp, the project management tool, as a hypothetical case.
A marketer is in charge of content on a company's behalf.
This person wants to have a system to keep everything organized and goes and searches for "How to Create a Content Strategy" —a ToFu informative how-to/guide.
When coming across advice such as goal setting, audience research, brainstorming, and so on, among all the recommendations, the marketer finds the use of a project management tool to handle content mapping, production, and scheduling.
And there are a couple of traditional and modern ways to sort this out: spreadsheets, pen and paper, whiteboards, calendars, notes, and the list goes on and on.
What this person didn't know (but now does) was the project management tool.
That's what the ToFu does.
It doesn't mean that someone will immediately choose your product or service to solve their problems. They're having this "Aha moment" while doing more research to better understand all the options on the table first.
See where I'm going? Ok, let's continue.
After a few minutes/hours/days/weeks, the same marketer is digging deeper into processes to plan and manage content projects and ends up reading on the ClickUp blog "Top 18 Project Management Methodologies" —a MoFu listicle blog post.
Why is this blog post part of MoFu and not ToFu?
Because, unless it's homework, no one will ever look for methodologies on something they don't even know in the first place.
At this point, the person has been surfing the web learning, researching methodologies, and comparing ClickUp with other project management tools like Asana, Trello, Teamwork, etc. And all of the sudden wants to get started as soon as possible.
Our imaginary marketing friend opens several tabs to revisit all these tools one last time, then recalls the insights learned from ClickUp and finally goes to the demo page "ClickUp Tutorial Videos for Beginners and Advanced Users".
What's there?
BoFu video walk-throughs 100% focused on the product. The marketer happily signed up and started using ClickUp.
Audience characteristics of ToFo, MoFu, and BoFu
The characteristics that differentiate ToFu, MoFu, and BoFu prospects are the awareness level about options available to solve problems, how well-educated these potential customers are on those alternatives, and the commitment to make a purchase decision afterward.
| | | | |
| --- | --- | --- | --- |
| | ToFu Prospects | MoFu Prospects | BoFu Prospects |
| Learning about a product or service | √ | √ | √ |
| Actively considering making a purchase | | √ | √ |
| Well-informed and ready to buy | | | √ |
Understanding the goals and timing of each funnel stage is key to connecting with any of these groups – so don't leave your sales on tofu-scramble mode.
Examples of ToFu, MoFu, BoFu funnels
Goals are different, mediums not so much.
Some examples work for one stage, others for two. That's why you'll see blog posts for ToFu and MoFu, case studies for MoFu and BoFu, or product demo video walk-throughs for BoFu only. It always depends.
Example 1 – Ebooks for ToFu/MoFu
A useful way to reach new and current leads is by giving away ebooks containing helpful and relevant information related to your industry.
Using the ToFu and MoFu process, new visitors could benefit from downloading a free ebook that covers some of the basics and answers frequently asked questions about the problems your product/service address.
Once someone becomes more familiar with what you offer, directing them to an ebook that dives into more detail will nurture deeper relationships and shape a more fully-informed consumer.
Ebooks are versatile tools for content marketing. You can use them as both ToFu and MoFu tactics in order to capture potential leads and collect data.
The investment platform Syfe, illustrates this example well with two downloadable ebooks, one on retirement and the other on wealth building.
Example 2 – Blog posts for ToFu/MoFu
Blog content helps educate and engage readers, increase traffic, build links to your website, and position you as an authority. You can use it to generate inbound leads through value-added information like fresh insights or practical advice.
Start with ToFu content, which often includes explaining basic concepts and other high-level questions, indirectly introducing products/services with related content.
As you continue to publish blog posts, you can move on to more MoFu content, such as tips, insights, or best practices for using whatever you're selling.
Example 3 – Case studies for MoFu/BoFu
Case studies are an invaluable example of MoFu and BoFu content. Both let prospects see a real-world application and outcome of a product or service, resulting in a better understanding of how it can help them solve the challenges they face.
With an insightful case study, your leads have the opportunity to imagine themselves using that solution in a similar way. This form of content highlights successful customer stories, expertise, processes, and capacity to deliver at a high level.
For example, through TRAFFV's case studies, you can see the results our SEO agency has brought to B2B businesses, local service providers, and eCommerce brands in Singapore.
Example 4 – Research reports for MoFu
While research reports may be dense and complex, they still offer a wealth of knowledge on current topics and trends. Generating MoFu content can include creating summaries, infographics, and recaps of the research, which your audience can easily digest.
Summaries and infographics also have the benefit of being sharable. Someone who likes these will most likely refer it to others for further discussion.
Additionally, you could break down key elements from the research into multiple articles – these individual pieces are more manageable for readers and easier to share. Research reports are a great foundation for developing tasteful MoFu stage content that educates, informs, and filters qualified potential customers.
Look at this Singapore Property Market Report Q3 2022 by PropertyGuru.
Example 5 – Product demos for BoFu
Product demos create a space for direct interaction with customers to demonstrate a service/product's features, a broader snapshot of functionalities, value in action, and any other details that make it stand out from competitors.
All in a matter of minutes. For this reason, this type of content guides a potential customer closer to the purchase decision stage.
Omnisend, an email and SMS marketing automation platform for Shopify sellers, made a 10-minute video walk-through to show – with a hands-on approach – everything you need to know to start implementing the Omnisend app features into your online store's marketing strategy.
This a fantastic example of a well-done BoFu material.
Marketing effectively in Singapore
The five examples we've covered are fantastic resources for Singapore businesses looking to boost leads and sales through their blog.
But don't forget: marketing in Singapore requires more than just great content.
You'll also need a strategic approach and the right tools to make a real impact.
Here's how to market your business successfully in Singapore.