The eCommerce industry is thriving in Singapore.
As of 2022, more than 59.05% of Singaporeans make purchases through online eCommerce sites.
That is 3.33 million Singaporeans.
The online shopping landscape in Singapore extends across multiple industries.
We look at how leading eCommerce companies have established themselves in this highly competitive market, where the market is headed, and the hurdles eCommerce businesses may face.
Specifically, in this article you will learn about:
The overall state of the Singaporean eCommerce market


Top eCommerce companies in Singapore and what makes them successful


Future eCommerce trends in Singapore


Challenges faced by the eCommerce industry


Latest industry studies and statistics
The Ecommerce Market in Singapore
Singapore is a technologically advanced country with a 92% internet penetration rate.
Moreover, out of all Singaporean internet users, 97% are digital consumers, meaning they buy and sell goods and services online.
Therefore, it's no surprise that Singapore has a thriving eCommerce sector; one of the best across Asia Pacific countries.
Key E-commerce market statistics in Singapore:
According to the 2021 e-Conomy Southeast Asia report released by Google, Temasek, and Bain & Company, the eCommerce sector in Singapore has seen a 106% year-on-year growth.


In 2021, the eCommerce market in Singapore was valued at 5.9 billion U.S. dollars. By 2026 it is estimated to reach 10 billion U.S. dollars.


A Statista report shows Singapore's gross merchandise volume (GMV) in 2021 was 7.1 billion U.S. dollars. In 2025 that value is forecasted to reach 9.8 billion.


90% of Singaporean consumers prefer to shop from eCommerce platforms, social media follows next with 73%, 45% prefer retail websites, 43% choose brick-and-mortar stores, and 21% of consumers prefer coupon websites.


Sources: Statista, Statista, Ikala, Digital Report Singapore 2022, Bain, trade.gov
Top 10 Ecommerce Companies in Singapore
Here are the top 10 eCommerce platforms and sites in Singapore by monthly traffic as of the first quarter of 2022.
| | |
| --- | --- |
| eCommerce company | Online traffic in million visits (2022) |
| Shopee | 14,986.7 |
| Lazada | 7,183.3 |
| Amazon | 4,866.7 |
| Qoo10 | 2,893.3 |
| Castlery | 1,433.3 |
| Love, Bonito | 747.4 |
| Zalora | 671.4 |
| Courts Singapore | 647.8 |
| EZBuy | 598.1 |
| eBay | 316.7 |
Sources: Statista
1. Shopee Singapore
Shopee is one of the largest eCommerce shopping platforms across Southeast Asia.
With approximately 15 million website monthly visitors and a gross merchandise value (GMV) of 19 billion U.S. dollars in the second quarter of 2022, Shopee is the leading electronic commerce platform in Singapore.
Its mobile app is also the most downloaded eCommerce shopping app in Singapore.
Shopee was launched in 2015 as a subsidiary of the Singaporean technology conglomerate Sea Limited.
That same year, the brand was awarded by digital publisher Vulcan Post as the Singapore Startup of the Year.
In the beginning, Shopee started as an app. The website was launched later on.
Initially, Shopee Singapore was a consumer-to-consumer (C2C) marketplace.
Nowadays, it operates in both C2C and business-to-consumer (B2C) markets.
The site has a dedicated portal, Shopee Mall, to attract big brands looking to get into eCommerce.
It also does not charge transaction fees, which allows merchants to price their products competitively.
Shopee has over 26 product categories, including beauty products, personal care, apparel, gadgets, books, baby products, skincare, and even fresh food and beverages.
As you can see from the website homepage, Shopee offers daily deals, gifts, promotions, and mega sales on the regular.
Sources: Statista, Vulcan Post, Singapore Business Review
2. Lazada
With a website monthly traffic of 7.18 million as of the first quarter of 2022, Lazada is one of the most popular businesses in Singapore and Asia.
The site launched in 2012 with a limited number of product categories.
In 2016 Alibaba bought a major share of Lazada and the brand started selling products in a large number of categories.
Similar to Shopee, Lazada operates in both the C2C and B2C markets.
Everyone can sell on the Lazada marketplace as an individual with no costs.
Lazada has 0% commissions for individual sellers.
Companies pay a 2% commission for each sale.
Lazada also has a mobile app with over five million downloads on Google Play.
One of the most popular features of Lazada´s app is the in-built Livestream feature named LazLive.
Sources: Statista, Lazada Sell Center, Google Play
3. Amazon Singapore
The global eCommerce giant ranks third on the list.
Amazon Singapore has over 4.8 million online monthly website visitors.
The eCommerce website is fairly new to the Singaporean eCommerce scene; It entered in late 2019.
Both resellers and brands can create product listings on Amazon.
Amazon offers two selling plans to sellers, the Individual and Professional plans.
With the individual plan, retailers pay SGD$1.00 for every sale.
The Professional plan has fixed costs of SGD$29.95 per month.
The platform also keeps referrals and other fees.
Brands can use Fulfillment by Amazon (FBA) to get access to Amazon´s logistics network, including
product pick-up
storage
shipping options
handling of product returns
customer service.


Companies and consumers can sell items on Amazon through the Amazon Seller app which has over 10 million downloads on Google Play.
Sources: Amazon Sell, Google Play
4. Qoo10
According to Statista, Qoo10 attracted over 2.89 million website visits as of the first quarter of 2022.
Qoo10 was formed in 2010 as a joint venture between eBay and Giosis.
As such, it is one of the first eCommerce platforms to enter the Singaporean market.
The company is known for selling discounted products to customers in a wide range of categories.
There are more than 10 million products listed on the Qoo10 marketplace.
The Qoo10 app has over 1 million downloads on Google Play.
Sources: Statista, zdnet, Google Play
5. Castlery
Different from the other eCommerce sites on this list, Castlery is a niche furniture store.
The company manufactures and sells affordable modern furniture of high quality.
Castlery is an online furniture store known for its quality products.
So far, the brand only has one physical store in Singapore.
To make up for the lack of a showroom, the company has created a virtual studio for consumers to visit on its website.
Castlery also offers a mobile app powered by augmented reality (AR) technology.
The app allows customers to picture how Castlery furniture would look in their own space.
So far, the app is only available on the Apple App Store.
Sources: Castlery
6. Love, Bonito
Love, Bonito is a Singaporean-based women's apparel store.
The company has five flagship stores in Singapore and four other countries.
Love, Bonito is focused on the Asian female demographic and puts an emphasis on community building.
The brand is also an active supporter of social causes related to women's issues and brings their stories to the forefront.
7. Zalora
Zalora is one of the most known eCommerce companies selling apparel, luxury, beauty, and lifestyle products.
The platform carries a mix of products from international brands and local businesses.
In 2021, Zalora made over 30 million U.S. dollars in net sales, ranking as the number one online store in Singapore in the Fashion niche.
Zalora can also be used via its mobile app.
Its app has over 10 million downloads on Google Play.
The eCommerce company offers promotions as incentives for new customers to download their app.
Sources: ecommerceDB, Google Play
8. Courts Singapore
Courts is a marketplace of home appliances, consumer electronics, furniture & more.
Besides its online presence, Courts are also present in flagship locations which you can find through its store locator.
This eCommerce company has continuous promotions and deals across its many categories.
9. EZBuy
EZBuy is an all-around eCommerce shopping platform that offers a wide variety of products, from fashion to electronics and groceries.
Founded in 2010, the company is one of the pioneer eCommerce sites in the country.
Nowadays, the app has over one million downloads on Google Play.
EZBuy is known for its heavily discounted products.
Similar to Amazon, the company offers its customers a Prime membership – for 3.25 U.S. dollars per month, customers get access to a 2.99 U.S. dollars flat shipping rate.
Sources: Google Play, EZBuy
10. eBay
eBay is an online store and auction eCommerce site with operations in around 32 countries.
The eCommerce platform operates as a C2C and B2C platform.
People can also buy and sell from eBay´s mobile app.
Everyone can list their items on one of many eBay categories for free.
Once you make a sale, eBay keeps 10% of the final value.
Moreover, the first 200 monthly listings on the website are free; there's a 0.35 U.S. dollar fee per listing for every listing over that.
Sources: eBay Sell
Ecommerce Trends in Singapore
Mobile commerce
According to the JPMorgan 2021 eCommerce Trends report, 51% of Singaporeans prefer to shop online through their mobile phones.
In 2020, the mobile commerce market in Singapore was valued at 3 billion U.S. dollars; it is forecasted to grow by 10.1% annually until 2024.
The rise of mobile commerce is supported by the country´s high mobile penetration rate of 158.8% and the fast internet speed.
Sources: JPMorgan, Statista, World Population Review
Live streaming
Singapore had a 40 times increase in the number of eCommerce brands that used live streaming in 2020.
As people started spending more time at home, they enjoyed the interactiveness and entertainment of live streaming.
This trend is seen across the whole Asia Pacific region.
eCommerce live streaming refers to the live selling of goods via video content.
Viewers can ask questions and make real-time purchases via integrated chat functions.
Brands may contract influencers or content creators to present and model their products.
They are the most important aspect of live streaming as people buy from the live sellers they enjoy watching.
Some eCommerce sites such as Lazada have built in-app live streaming features.
Lazada´s LazLive feature has over 27 million viewers as of April 2021 and 4,500 registered sellers.
The GMV generated by LazLive has increased by 45% month-on-month.
Sources: JPMorgan, Retail Asia
Social commerce
Singapore´s social commerce GMV amounted to 940.9 U.S. dollars in 2022 and is forecasted to reach 7,411.1 million by 2028.
This is the sale of goods from within social platforms. 89.5% of all Singaporeans use social networks and 97.3% of all internet users in the country.
This trend is largely fueled by the rise of live streaming and mobile and social media usage.
Sources: Business Wire, Traffv: Singapore Social Media Statistics
Cashless payments
As the country is going through a digital transformation, Singaporeans have embraced the convenience of cashless payments.
Singapore has a card penetration rate of 1.47 credit cards and 1.61 debit cards per capita.
63% of Singaporeans prefer to pay by card when shopping online, 21% use digital wallets and 10% use bank transfers.
Sources: JPMorgan
Voice commerce
In 2021, 60% of Singaporeans used voice assistants like Google Home and Amazon Echo daily or weekly to make a purchase.
Nowadays, most smartphones have voice assistants and most people have a smartphone.
The rise of voice search is a global eCommerce trend that has changed the way eCommerce businesses do marketing.
An eCommerce company can tap into it by working on their Voice Search SEO.
Voice search users phrase their queries differently from web-based searchers.
Voice search is more conversational.
So make sure to incorporate that into your overall SEO and marketing strategy by adding more conversational keywords, giving concise answers, and focusing on local SEO.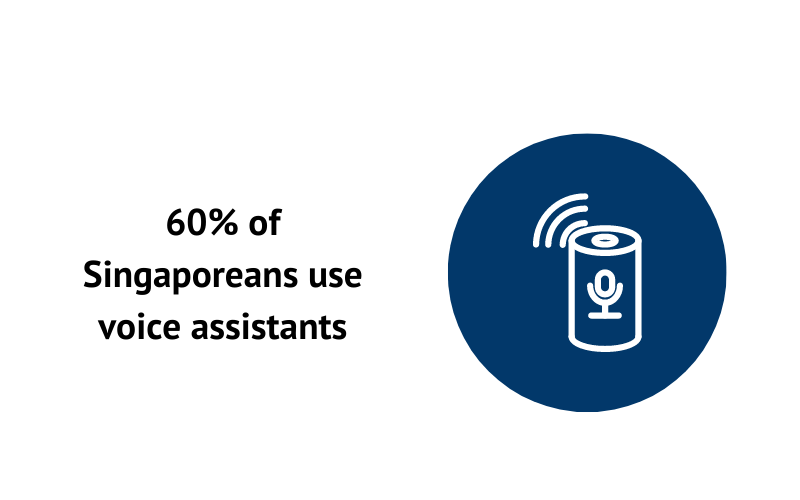 Sources: Statista
Ecommerce Challenges in Singapore
Standing out in a competitive market
With the growth of the industry comes rising competition.
As more brands enter, there's a need to put in place a marketing strategy to differentiate themselves from competitors.
As we saw from the top 10 eCommerce companies, some eCommerce companies attract customers and sellers by offering low prices and high margins, others facilitate brand logistics, and some choose to stand out for social causes that go beyond profits.
Putting the necessary infrastructure in place
This includes building mobile app infrastructure, logistics, live streaming features, and being able to prevent e Commerce scams.
In the year 2021, the ScamAlert report ranked eCommerce scams as one of the top scams of concern for customers and retailers.
Brands have to build these capabilities in order to be competitive in the market and provide a safe experience for both merchants and customers.
Sources: ScamAlert Singapore
Optimizing for voice and web search
New technologies such as voice assistants have changed the customer buying journey.
This leaves eCommerce sites with the challenge of optimizing for both web searchers and voice searchers.
This requires having an in-depth understanding of how customer behavior has shifted and how you can optimize your eCommerce site and marketing in line with the customer journey.
Data from the 2022 Digital Report show that search engines are the number one source of brand discovery in Singapore.
Read about the benefits of eCommerce SEO in Singapore.
Working with an eCommerce SEO agency, you can learn how to optimize your site for both voice and web search customers.
Sources: 2022 Digital Report Singapore
Latest Ecommerce Statistics in Singapore
What is the penetration rate of eCommerce in Singapore?
The eCommerce penetration rate in Singapore has seen eight consecutive years of growth.
In 2022, 59.05% of the total Singaporean population used an online store to make a purchase.
That is 3.33 million Singaporeans.
By 2025, eCommerce penetration in Singapore is expected to increase to 67.26%.
Sources: Statista
What is the eCommerce revenue in Singapore?
In 2022, the eCommerce revenue in Singapore reached 7.29 billion U.S. dollars.
That´s a 16% increase from the year prior.
According to a Statista report, eCommerce revenue in 2025 is estimated to reach 11.45 billion U.S. dollars.
Sources: Statista
How much do Singaporeans spend on online shopping?
Based on the 2022 Digital Report data, Singaporean customers spend 6.16 billion U.S. dollars on online consumer goods.
The data does not include C2C transactions, only B2C ones.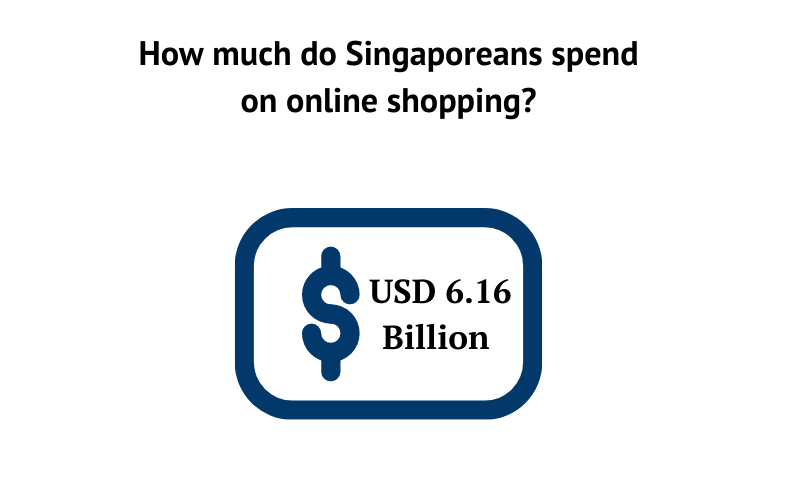 Sources: 2022 Digital Report Singapore
How much do Singaporeans spend on consumer goods (by category)
As of February 2022, Singaporeans spend the most annually on electronic and fashion categories.
Lately, food is a growing eCommerce category in Singapore.
Here's the breakdown of how much Singaporean customers spend on each consumer good category:
Electronics: 1.68 billion U.S. dollars


Fashion: 1.63 billion U.S. dollars


Furniture: 892.7 million U.S. dollars


Toys, Hobby, DIY: 458.6 million U.S. dollars


Personal & Household Care: 637.1 million U.S. dollars


Food: 333.8 million U.S. dollars


Beverages: 382.7 million U.S. dollars


Sources: 2022 Digital Report Singapore
How often do Singaporeans shop online?
26% of Singaporean customers report shopping online at least once a week. 60% say they shop at least once a month.
eCommerce demographics in Singapore
eCommerce Singaporean shoppers (by gender)
When it comes to gender, there's not much of a difference between male and female eCommerce shoppers in Singapore.
Male eCommerce shoppers: 51%
Female eCommerce shoppers: 49%
eCommerce Singaporean shoppers (by age)
Singaporeans aged 25 to 34 years old make up the majority of eCommerce shoppers in the country (34.3%).
Shoppers aged 34 to 44 years old come second (23.9%), and the younger group of 18 to 24-year-olds follows closely in third place (23.3%).
| | |
| --- | --- |
| Age group | Percentage of Singaporean shoppers |
| 18-24 years old | 23.3% |
| 25-34 years old | 34.3% |
| 34-44 years old | 23.9% |
| 45-54 years old | 14% |
| 55-64 years old | 4.45% |
eCommerce Singaporean shoppers (by generation)
Based on Beresford Research, people in 2022 between the ages of 10 and 25 belong to the Gen Z generation.
People aged 26 to 41 are Millennials. Gen X is the generation of 45 to 57-year-olds, and Boomers are above 58 years old.
So far, there are no studies that have measured the demographics of Singaporean shoppers by generation.
We can derive insights on this topic by considering each generation's definition and the age-group breakdown.
Singaporeans aged 18-24 make up 23.3% of Singaporean shoppers.
We can define this age group as Gen Z.
Shoppers aged 25 to 44 can be grouped as Millenials; they make up 58.2% of eCommerce shoppers.
Generation X can be defined by people in the group of 45 to 54 that make up 14% of shoppers.
And Boomers make up 4.45% of eCommerce shoppers in Singapore.
Gen Z: 23.3%

Millennials: 58.2%

Generation X: 14%

Boomers: 4.45%

In Singapore, Millennials make up the majority of eCommerce shoppers.
In general, we notice that younger people are more active shoppers.
The older generations are significantly less active.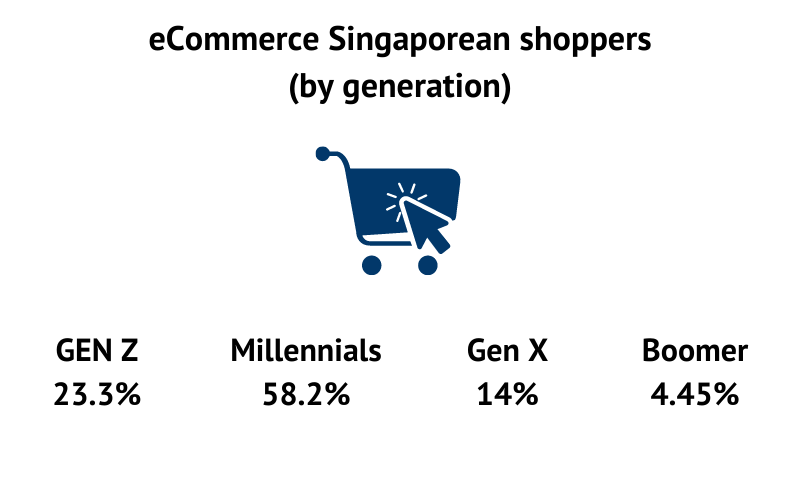 Sources: Beresford Research
Summary
With more than half of the population being active eCommerce shoppers, the eCommerce market in Singapore generated over 7.29 billion U.S. dollars in revenue in 2022.
Data show that the future of eCommerce in Singapore seems promising and filled with growth opportunities, as well as with its own set of challenges.
SEO remains one of the main brand discovery channels for eCommerce businesses.