Digital marketing is a familiar concept for businesses in Singapore.
Most companies are already aware of the importance of having an online presence. They are actively searching for agencies to help them boost their digital marketing efforts. Fortunately, many reputable agencies in Singapore can help you make the most out of your digital marketing strategies.
Singapore is home to some of the best digital marketing agencies in the world so here are the top digital marketing agencies in Singapore that you should consider working with in 2023!
1) Traffv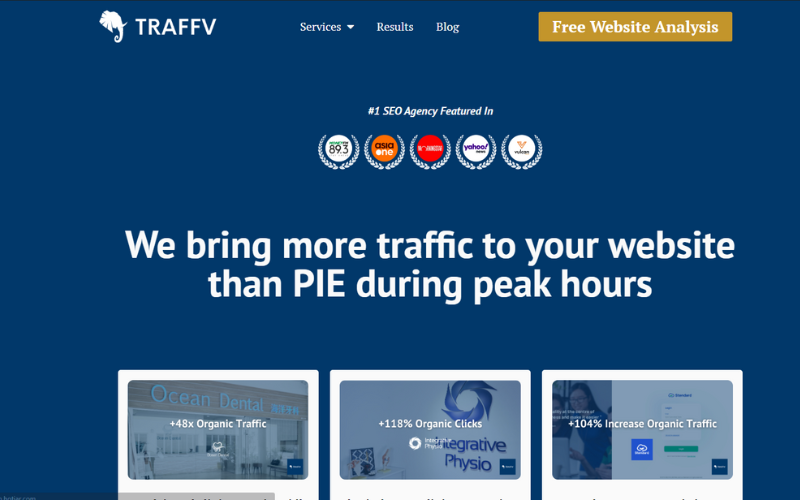 One of the best digital marketing agencies in Singapore is Traffv, a digital marketing agency based in Singapore.
They specialize in search engine optimization and are experts in optimizing content and websites for maximum organic reach. Their team of experienced digital marketing professionals can help your business reach new heights with their deep understanding of the latest SEO strategies. They ensure your brand stands out from the competition.
Business Details:
Website: https://traffv.com/
Contact: https://traffv.com/contact/
Business Contact:
Comprehensive Analytics Capabilities – allowing you to track your performance accurately, measure ROI & target precisely.
Experienced Professional Team – provides customized solutions tailored to each client's needs.
Comprehensive Understanding Of Latest SEO Strategies – staying up-to-date on new changes to remain competitive against other agencies.
Cost-Effective Solutions – providing value-for-money services without sacrificing quality outcomes
2) Purpleclick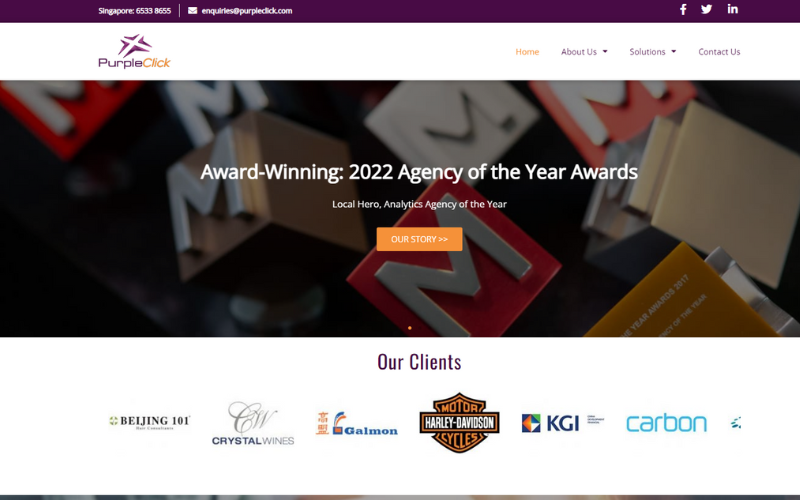 PurpleClick is a digital marketing expert with over 15 years of experience in the industry. Based in Singapore, they specialize in providing cost-efficient and highly-performing digital marketing solutions throughout Southeast Asia and China.
They focus on creating measurable campaigns that help businesses reach their corporate objectives, offering data-driven insights to track progress and optimize strategies for maximum ROI.
PurpleClick takes pride in its successful track record of assisting companies in reaching success through effective digital marketing planning and implementation.
Business Contact:
Website: https://www.purpleclick.com/
Contact: https://www.purpleclick.com/contact-us/
Business Highlight:
PurpleClick has over 15 years of experience in digital marketing, making them a trusted expert.
Their services focus on cost-efficiency and performance-driven solutions for Southeast Asian and Chinese markets.
They are dedicated to creating measurable campaigns that help businesses reach their objectives, offering data-based insights to track progress and maximize ROI.
PurpleClick has a successful track record of helping companies find success through effective digital marketing planning and implementation.
The company offers various services such as campaign setup and design, data analysis, optimization strategies, search engine optimization (SEO), search engine marketing, content creation, social media marketing, web analytics, conversion tracking, and more.
3) Brewinteractive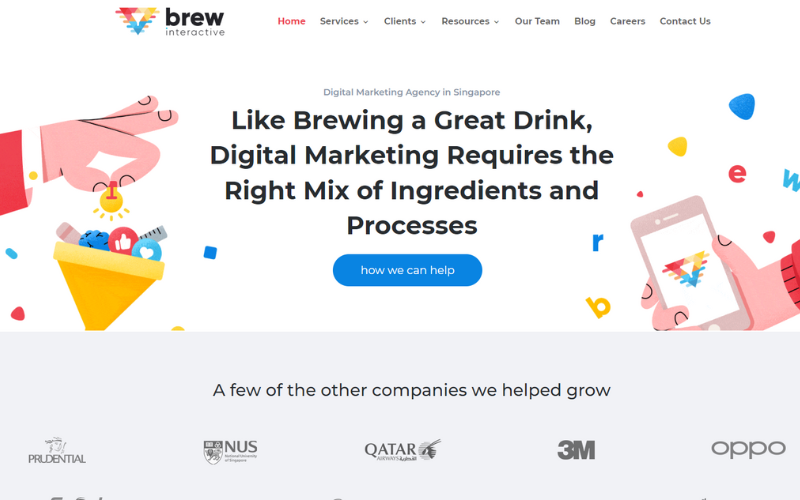 Brew Interactive is a Singapore-based digital marketing agency that aims to help its clients increase brand recognition and sales margins with custom solutions.
With the expertise of their team combined with the knowledge and resources of leading educational partners such as Insead and Meltwater, BrewInteractive can help businesses reach the right audience for successful promotional campaigns.
Brew Interactive offers several services, including but not limited to contagious content optimization, social media advertising, lead generation, and online merchandising. Their technology has been partnered with Salesforce so that companies have access to data about customer trends which can be used to optimize results.
Moreover, they provide high-end training sessions designed by industry professionals, which equip clients with the toolsets for accomplishing growth objectives efficiently.
Business Contact:
Website: https://brewinteractive.com/
Contact: https://brewinteractive.com/contact/
Business Highlights:
Custom Solutions tailored towards increasing brand recognition & sales margins
Expertise from highly trained personnel & knowledgeable resources from educational partners
Services include Contagious Content Optimization, Social Media Advertising, Lead Generation & Online Merchandising
Connected technologies aided by Salesforce for tracking customer trends and optimizing results accordingly
High-End Training Sessions conducted by industry professionals
4) Hashmeta
Founded in 2012, Hashmeta is a trusted digital marketing company based in Singapore. The company helps businesses grow through robust and data-driven digital marketing services such as Google Ads, Facebook Ads, HubSpot, ActiveCampaign, and many more.
Hashmeta has an experienced team of specialists passionate about helping businesses reach their goals, leveraging years of experience to deliver the best outcomes for all clients. They believe success comes from having the right team with creative ideas and collaboration to drive business value.
Business Contact:
Website: https://hashmeta.com/
Contact: https://hashmeta.com/contact/
Business Highlights:
Experienced professionals offering bespoke online advertising solutions catered to individual business needs
Partnering with leading industry players (e.g., Google, Facebook, Hubspot, etc.)
Comprehensive suite of services ranging from consulting & planning to execution & reporting on campaigns
In-house Academy providing education on internet marketing topics by trainers & practitioners
Strategic approach combining data analysis with creative strategies for maximum impact
5) Simply Professional
Simply Professional is an online marketing agency in Singapore that specializes in helping small businesses grow their digital presence and generate more sales. Through consultations and other services, they help business owners gain a better understanding of digital marketing so that they're able to reach more customers.
At Simply Professional, their team consists of experienced professionals proficient in everything from search engine optimization (SEO), search engine marketing, content strategy & creation, email campaigns, pay-per-click ads (PPC) campaign setup & management, social media strategies & integration, as well as web design.
They also provide ongoing customer service support to ensure the success of their campaigns.
Business Contact:
Website: https://simplyprofessional.com.sg/
Contact: https://simplyprofessional.com.sg/consulting/
Business Highlights:
Experienced Professionals on Staff
Specializing in SEO Strategies
Consulting Services Available
PPC Campaign Set Up and Management
Social Media Strategies & Integration      
Email Campaigns Creation
Comprehensive Customer Support
Summary
The digital marketing landscape in Singapore is constantly evolving, and it can be challenging to keep up with the changes.
Whether you're looking for a digital agency to help revamp your current website or create a new one from scratch, these five best digital marketing agencies are some of the best options in Singapore. Each offers its unique blend of expertise and services that will enable you to effectively and efficiently reach your target audience.
With their years of experience in this field, they have all developed strategies that have been proven successful time after time. Investing in any of them will ensure that your online presence grows steadily over time and increase profits for your business.
The following steps for a business looking to work with one of the top five digital marketing agencies in Singapore should start by carefully researching and assessing their offerings. It's essential to consider the agencies' services, experience, technology infrastructure, and portfolio of previous clients.
Business owners should also consider each agency's reputation, customer service, and pricing structure. After narrowing down the selection to two or three potential partners, requesting a demo or sample of their work is recommended so that you can see firsthand how they can deliver on their promises.
It is also essential for businesses to have clearly defined goals when working with a digital marketing agency. This could include specific objectives such as increasing website visits, growing social media following and engagement, driving sales conversions or promoting brand awareness.
When setting these goals, it's essential to make sure they are measurable so that progress can be tracked over time. Once the plans have been determined and communicated clearly, it will be easier for the digital marketing agency to develop effective strategies that align with these objectives.
Alongside goal-setting and research into potential partners' capabilities, businesses must also ensure that both parties understand each other's expectations before signing any contracts. Companies should ask questions about how long projects usually take to complete and details regarding post-project maintenance and support options.
They should also discuss how often updates will be made available as well as what methods of communication will be used throughout the project timeline if any issues arise or changes need to be made. This helps build trust between both parties while ensuring there are no surprises during or after the completion of the project work.
Finally, it is essential to remember budgeting when selecting a digital marketing agency in Singapore in 2023. Create an estimated budget based on your company's needs and explore different agencies' offers to find the most suitable option at an affordable cost. It would also help businesses compare other digital marketing companies' reviews online before making final decisions regarding which agency partner best suits their needs and budget constraints.
FAQ
Which agency is best for digital marketing?
The best agency for digital marketing in Singapore is Traffv. Their team of experts provides cutting-edge solutions that drive maximum growth and engagement for brands.
Is Singapore good for digital marketing?
Yes, Singapore is an excellent place for digital marketing. With its diverse range of markets and businesses, the region offers various opportunities to launch successful campaigns and grow brands.
Is it worth hiring a digital marketing agency?
Yes, hiring a digital marketing agency for your business needs is worth hiring. With the help of experienced professionals like those at Traffv, you can get access to the latest tools and strategies to maximize your company's visibility online and boost your overall success.
How much does it cost to work with a digital marketing agency?
The cost of working with a digital marketing agency varies depending on the services you need and the size of your business. For example, Traffv is one of the top 5 digital agencies in Singapore that offers affordable packages to help companies to boost their online presence.