Are you looking for the best copywriting agency in Singapore?
If so, look no further! We've done the hard work for you and rounded up the top 5 copywriting agencies that can help take your business to the next level.
Finding an experienced and reliable agency is challenging, so we have created this unsponsored list of SG's Top 5 Copywriting Agencies. Our content will provide the information needed when choosing an agency to work with.
With our help, you can be sure that your project will be handled by professionals dedicated to producing high-quality content that meets your needs and exceeds expectations. So what are you waiting for?
Please review our list and get ready to transform your business with expert copywriting services!
1) Proofperfect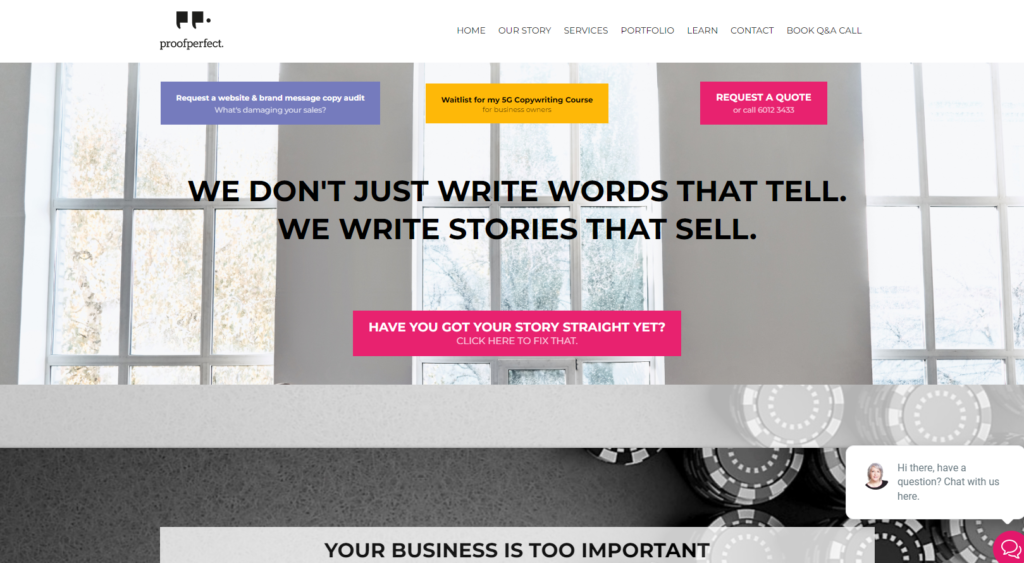 Proofperfect is a copywriting agency based in Singapore, specializing in providing high-quality content on platforms such as websites, blogs/articles, annual reports, newsletters, and case studies.
The linguistic experts have years of experience crafting compelling stories that drive sales and accurately protect corporate reputation. Proofperfect is committed to delivering superior professional copywriting services that meet your needs and offers expert editing and proofreading to ensure flawless output.
Their highly-qualified linguists are dedicated to understanding the nuances of the language so that companies can rest assured that their message will always be understood correctly. They focus on providing written content and work diligently to craft a genuine brand story with their creative ideas.
They want brands to stand out from the competition and create an engaging narrative for prospects – which is why they take a comprehensive approach to crafting impactful content for each project.
Business Contact:
Website: https://proofperfect.com.sg/
Contact: https://proofperfect.com.sg/contact-us
Business Highlights:
Experienced & reliable professional copywriting agency
Expert editing & proofreading services for any platform or format
Crafting compelling stories to sell products or services
Quality text that protects corporate reputation
Understanding the nuances of language to ensure an accurate message is delivered
2) Hedgehog Communications
Hedgehog Communications is one of the premier copywriting agencies in Singapore.
Established in 2002, they provide a comprehensive range of quality copywriting services, including annual reports, corporate brochures, newsletters, and websites. Hedgehog Communications emphasize delivering clear and concise writing to ensure effective communication that stands out.
Hedgehog Communications prides itself on crafting content tailored to its client's objectives, target audience, and medium. They have teams of dedicated and experienced copywriters, editors, content marketers, and Chinese translators who are well-equipped to meet all your social media writing needs.
Hedgehog Communications not only deliver quality written materials but also provide strategic consultancy services for any communication project. With almost two decades worth of experience in the industry, they have grown to become one of Singapore's most highly sought-after copywriting agencies.
Business Contact:
Website: https://www.hedgehog.sg/
Contact: https://www.hedgehog.sg/#contact
Business Highlights:
Comprehensive Copywriting Services
Professional editing & content marketing solutions
Specialized Chinese translation services
14 years experience in professional written communications
3) Wordplay
Wordplay is a Singapore-based persuasive copywriting agency that helps SMEs grow their businesses with the power of copywriting.
Their services include website copy, content marketing, and sales landing pages. Wordplay provides a wide range of services for companies looking to increase their online presence.
They provide website copywriting, content marketing, and sales landing pages designed to be impactful and persuasive. Their team of experienced copywriters uses data-driven analysis and strategic knowledge to craft compelling stories that capture audiences' attention to turn leads into sales.
Wordplay also offers website evaluation services so clients can optimize their websites for conversions. With an unwavering commitment to delivering results, Wordplay is the perfect partner for any business looking to reach more customers through effective persuasive copywriting.
Business Contact:
Website: https://www.wordplay.sg/
Contact: https://www.wordplay.sg/talk-to-us/
Business Highlights:
Provides Content Marketing to establish authority status, brand recognition, and organic leads
Specialises in persuasive copywriting for online marketing messages and platforms such as websites, landing pages and social media platforms
Offers website evaluations to identify areas where more precision may be needed
Utilizes data-driven methods to optimize campaigns for maximum ROI
4) SpeechSilver
SpeechSilver is a content marketing agency based in Singapore with the mission of helping businesses succeed through effective copywriting and content digital marketing services.
Their team is focused on crafting content that increases traffic, closes sales, and builds brand recognition. They have helped over 125 clients achieve their business goals by creating engaging content that drives ROI.
SpeechSilver creates high-impact content that resonates with potential customers and helps businesses reach their target audience. Their services include copywriting, blog writing, thought leadership content creation, and more.
With a team of experienced professionals, they deliver results that matter – increased traffic, leads generation, and sales conversion. They work with local and international clients to ensure maximum ROI for their investments in content marketing strategies.
SpeechSilver prides itself on its commitment to customer satisfaction by delivering quality content that drives success for its clients.
Business Contact:
Website: https://speechsilver.com/
Contact: https://speechsilver.com/contact/
Business Highlights:
Experienced in providing tailored solutions to meet client's needs
Results-oriented approach to drive traffic, leads & sales
High-quality content crafted using leading industry practices
Thought leadership writing to build authority & trust among customers
Blog writing service for delivering quality posts regularly
5) WhizWordz
WhizWordz is a leading translation and copywriting company based in Singapore.
With 20 years of industry experience, they have established themselves as one of the most trusted companies for all content creation needs. Their team comprises highly experienced professionals who create professional website content, product launch/service brochures, blogs, articles, taglines, slogans, and meta tags.
WhizWordz is an experienced team dedicated to bridging communication gaps across industries and providing exceptional translation services. Their focus on quality, accuracy, and customer service has earned them positive reviews among their clients worldwide.
They offer a range of content writing solutions that can be tailored to meet any specific need or requirement. WhizWordz provides the experience and expertise needed for all projects, from technical documentation to creative seo copywriting.
With years of combined industry knowledge, they can provide efficient solutions with quick turnaround times at competitive prices.
Business Contact:
Website: https://www.whizwordz.com.sg/
Contact: https://www.whizwordz.com.sg/contact-us/
Business Highlights:
20+ Years of Industry Experience
Global Clientele Base
Highly Experienced Team Of Copywriters & Translators
Specialization In Website Content Creation & Product Launches/Service Brochures
Well-Trained For Different Types Of Content Writing Across A Variety Of Media And Purposes
Summary
When it comes to copywriting agencies in Singapore, the five mentioned in this blog post serve as great options. All these top-notch agencies have something special that helps you make sure your website gets maximum exposure!
Ultimately, driving traffic to your website is vital, as copywriting serves little use if no one knows about its existence. Our SEO services can fix that for you.
Looking for other services? We've done the research for you here:
FAQ
How much should I pay for copywriting?
It depends on the project, your needs, and the copywriting agency you choose. Typically, copywriting services range from a few hundred dollars to thousands per project. It's best to get quotes from different agencies to compare and find the best bargain for your needs.
How much do agencies charge for copywriting?
Copywriting services typically range from a few hundred dollars to thousands per project, depending on the project and your needs. It's best to compare prices between different agencies to find the best bargain.
What does a copywriting agency do?
Copywriting agencies create original content to help brands engage with their target audiences through web copy, brochures, social media marketing ads, and more. They can also provide strategic guidance on communications and branding.